ZTO - ZAKŁAD TECHNIKI ODPYLANIA
In harmony with nature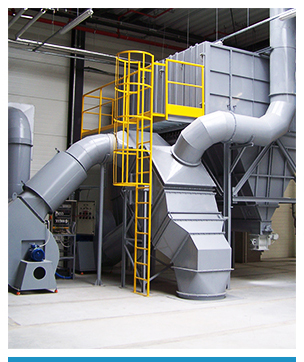 Pulse jet filters of the filter surface of 6.4 m² to 2240 m²
Horizontal pulse jet filters with a filter surface of 4.2 m² to 505 m²
Cyclone filters with a filter surface of 6.4 m² to 519 m²
Cartridge filters
Stationary filters
Filters in ATEX version
Dedusting of coal boiler
Cyclones and cyclone batteries
Dispensers rotary valves and screw conveyors
Industrial Central Vacuum Cleaning System also in ATEX version
Modernization of electrofilters and bag filters regenerated mechanically into pulse jet filters regenerated with compressed air
Design, construction and installation of dedusting system also in ATEX version
Zakład Techniki Odpylania is a private enterprise established in 1985. It acts in protection of natural environment, in particular protection of atmospheric air. The principal line of business includes design, production, supply and assembly of dust collection plants and systems as well as industrial central vacuum cleaning systems. The company has own design studio, production department and assembly and service teams.
Company produces and supplies complete dust collection systems as well as individual dust collection plants, mainly bag filters using compressed air regeneration. Filters are produced in the standard option, Ex in accordance with ATEX requirements, can be made of stainless steel and according to other client requirements.
Marketing and design departments provide advice on the selection of filtering materials as well as filtration and regeneration parameters. We also supply spare and replacement parts for plants and systems provided.
CONTACT
ZTO - Zakład Techniki Odpylania in Końskie
ZAKŁAD TECHNIKI ODPYLANIA
Kolejowa Street 13, 26-200 Końskie, Poland
PHONE./FAX:
+48 41 372 76 83
+48 41 372 73 88
MOBILE PHONE:
+48 502 33 56 10
WWW: zto.com.pl
E-MAIL: biuro@zto.com.pl
CHIEF MARKETING OFFICER:
+48 504 025 680